Potty training your baby is a very time-consuming and a daunting process for parents as well as babies. Some parents tend to feel that once the baby has learned to sit at six or seven months of age, he or she is ready for potty training and they should potty train the kid. But, hold and watch, maybe the baby is too young at this age to be potty trained. The baby cannot even talk and tell you that he or she needs to go and hence there will be more accidents and the time of getting potty trained will increase. You should watch for successful signs of readiness for potty training your baby. Some kids do get potty trained within a week and some take months. Also, the type and the comfort on the potty is one of the factors that affect the potty training of a child. So, here is everything you want to know about potty training your babies
The average age of starting potty training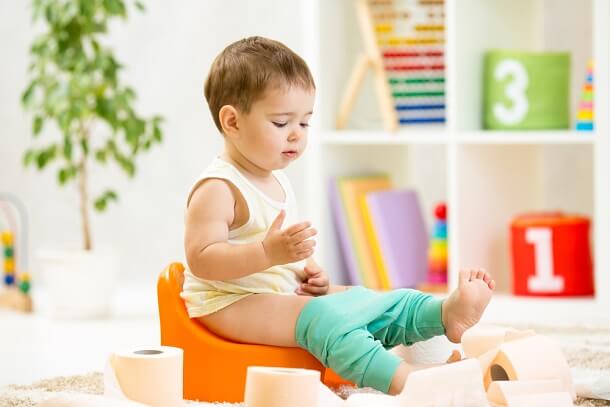 As such there is no average age for potty training your child. You can start potty training your kid from day one. But, you cannot expect your potty training at this age to be easy and accident-free. If you want your potty training to go smoothly and with fewer accidents, the average age is one year to one and a half year plus. At this age the baby has learned to sit properly, might have learned to walk and will have at least some level of communication to let you know. The following checklist is a must to check the readiness of a kid to start its potty training
Physical signs
Behavioral signs
Cognitive signs
Physical signs
The kid is well coordinated or has started to talk and walk. Urinates enough at one time to have some dry period of at least one and a half hour. Has a regular and a particular time for the bowel movement.
Behavioral signs
Has the habit of sitting down at one position for a longer period of time, Does not like the habit of wearing a wet diaper.  The kid should not be afraid to sit on the potty and only if he or she is ready to cooperate.
Cognitive signs
This is when the kid understands the physical signs that he or she has to go to the bathroom.
Also make a point that you clean the baby properly once he or she is done using the potty properly. Lot of people have the habit of using hand sanitizers on their baby's hands. But, it is better to check with the pediatrician if hand sanitizer are safe for babies.
So, here are the few tips on potty training your baby. It may help you a lot in observing these signs and then potty training your kid.
Please do let me know in the comment section below how did you like this article