The toddlers and the young one's cannot completely depend on mother's milk and formula food for their entire life. They need to be started and taken on solid food slowly and gradually. The ideal time to start solid food for toddlers is from 4 to 6 months. During this time the gut and the digestive system of the baby gets ready to start solid food. Before that the digestive system of the baby is very weak. This is the time that you should start solid food for your baby. But, when you are about to start giving solids to your baby, the first and the foremost thing that comes to mind is what to give and what not to give to the baby. Here i am presenting a few recipes for a six to nine month old toddler.
The first and the foremost thing to keep in mind is that whatever food you start with, give the same food to the baby at the same time for a week. Than introduce another food. This way you will be able to know if your baby is allergic to some food or not. Make sure that when you start giving solids, the food is not too thick for the baby to swallow. Otherwise the baby might choke on it. Baby may get scared and reject solid food all together.
Recipes for six to nine months old toddler
Lentils and rice preparations
Toor dal ka pani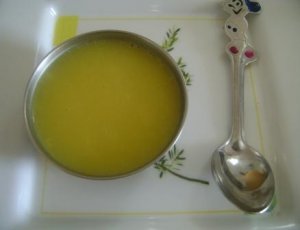 It is better to start solids with toor dal as it is easy to digest
Age: 6 months and more
Recipe :
Take a handful of toor dal and boil it in ample amount of water till the dal is cooked properly.

The water should be enough to cover the dal

Crush the cooked dal along with water of the dal
To this add a small pinch (equal to the small quantity on your nail) of salt, turmeric, hing (asofoetida) and one tablespoon of ghee.
Give this to your child around at lunch time. Lunch time is preferred so that the baby does not get colic at night.
Rice water ( rice osaman )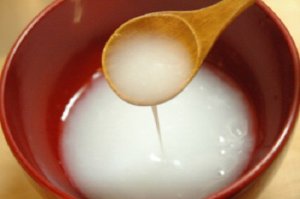 You can also give the cooked rice water to the kid which is very healthy.
Age: 6 months or more
Take a handful of rice

Cover the rice with water

Let it boil till the rice is totally cooked

After that crush the rice along with water that is used to boil.

To this add salt and hing (asafoetida)

You can also add some ghee
In the same way you can also prepare Moong dal pani and Moong ka pani.
Liquid khichdi recipe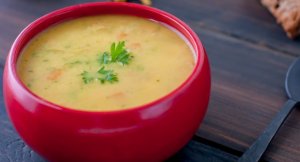 Age: 6 months or more
Liquid khichdi is very healthy. It contains moong dal and rice.
Take a handful of moong dal

Take a handful of rice

Cover the mixture with water

Add turmeric powder, a pinch of salt and asafoetida

Pressure cook for ten minutes.

Add ghee to it and mix properly
The baby will love to have this khichdi
Soups
Basically you can take most of the vegetables and make a soup of it for the baby.
Potato tomato soup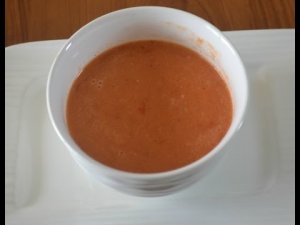 Age: 6 to 9 months
Take half a potato and half tomato

Pressure cook them with little water

After pressure cooked crush them together with a hand blender or mixer

Add a pinch of salt and asafoetida
Tomato carrot soup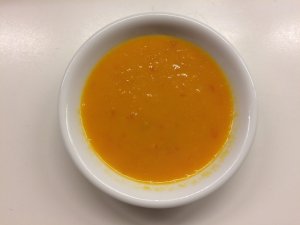 Age: 6 to 9 months
Take a piece of carrot and a piece of tomato

Pressure cook them together

After that crush them together in a hand blender or mixer

Add some salt and asafoetida
You can mix and match various vegetables and pulses like moong dal, toor dal and rice to make soups for the babies.
Mashed potatoes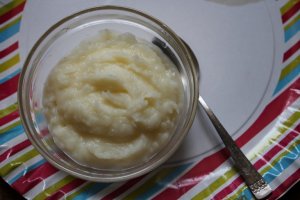 Age: 7 to 9 months
Take one or two potatoes

Peel the potatoes and pressure cook them

After pressure cooking mash the potatoes

Add a pinch of salt, clarified butter and ghee
Babies will love this taste of potatoes.
Fruits and fruit juices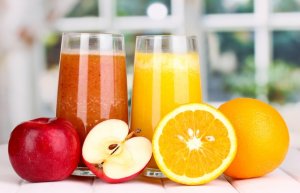 You can definitely give fresh fruit juices to your babies. Make sure that you are giving juice to your baby in the afternoon and you do not give milk to your baby immediately. The fruits are a little bit citric in nature and hence preferably should be given in the afternoon time.
The recipe of preparing fruit juice is as follows:
Wash and peel the fruit

Cut the fruit and take it in a vessel along with water

Take out the juice with hand blender or mixer or you can use juicer

Give it fresh to your baby

Do not refrigerate the juice before giving

Do not keep the juice ready for more than half an hour
Mango juice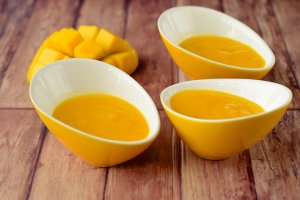 If the mangoes are in the season, then they are a great source of nourishment for your child.
Wash the mangoes and keep them aside

Squeeze the mangoes and take out fresh juice

Do not add ice or water to it

Give it fresh to the baby
Mashed bananas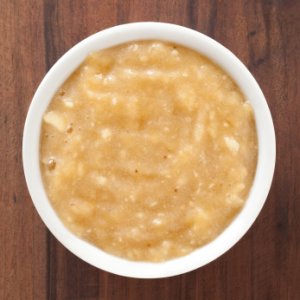 Age: 7 to 9 months
Bananas are high in calcium content and are also fulfilling for your baby
Take a banana

Mash it properly with a spoon

Give it to the child
You can give mashed fruits like sapotas, papaya etc.
Apple pulp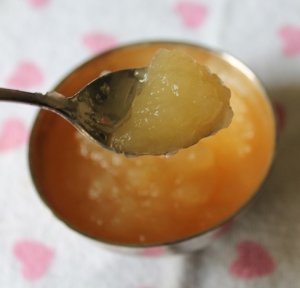 Age: 7 to 9 months
Wash and peel the apple and cut it.

Pressure cook the pieces of apple for 10 minutes

You can add a pinch of salt or sugar to it as per the baby's taste.
You can also give pulp of pineapple to the baby. The preparation is same as apple pulp,
Chapatti (roti) with milk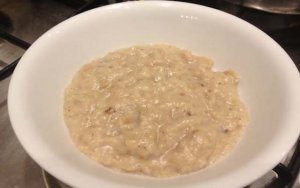 Age: 7 to 9 months
Take as many roti as needed

Add some lukewarm milk. Crush them together with hand blender or mixer
This is a very fulfilling meal for the kid. You can also prepare rice with milk in the same manner. It will give the taste of kheer.
Make sure that as the baby's age increases you have to change the consistency of food to more and more thick. You have to increase the solid part and decrease the liquid part.