Maintaining hygiene is one of the most important factors for maintaining kids' health. Not only, physical hygiene, but, dental and oral hygiene is also important. The first and the foremost thing which is important for oral hygiene is using a good toothbrush for your little munchkin. As new parents, we all wonder about at what age should we start using a toothbrush for our kids, which is the best quality toothbrush to use, and a lot more questions crowd our minds as new parents. Whether we should use a hard toothbrush or a soft one and which brand toothbrush is good for our babies. These are some of the questions that come to our mind. So, here is all you want to know about using a baby toothbrush.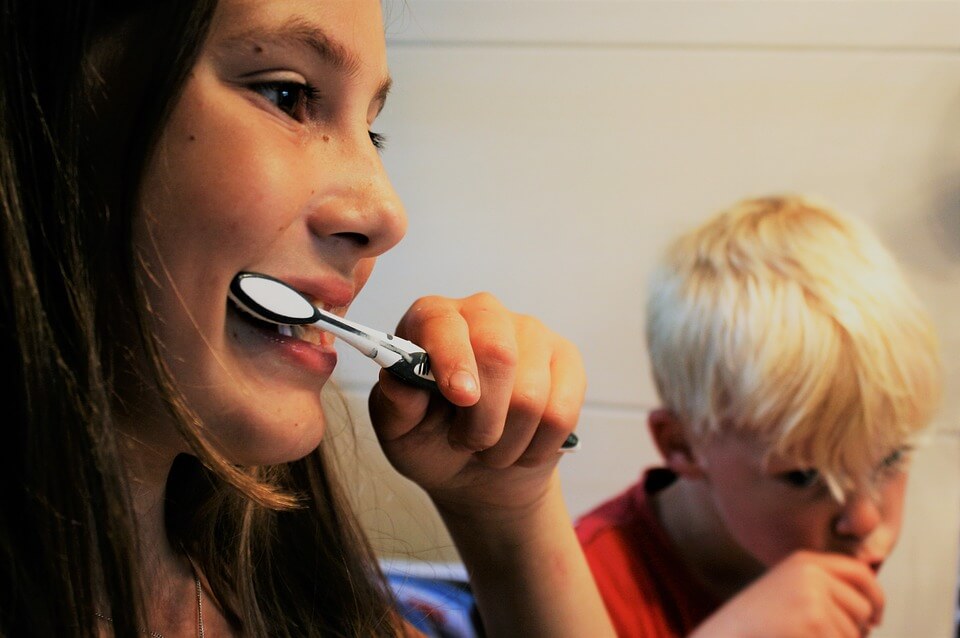 When to start cleaning my baby's teeth and gums?
Pediatrician's advice to clean the baby's gums after feeding. The main reason behind this is that the babies start teething at the age of 4 to 6 months. At that time their gums become swollen and red. The saliva flow also increases during that time, and the child is in a lot of pain. So, the child tends to put anything and everything in their mouth, which will lead to a lot of germs build-up.
In addition to that when the child is feeding, the feed may stick to the gums of the teeth and will increase more bacterial and germ buildup in the mouth which will eventually lead up to infection in the teeth and teeth decay. Hence, you should start cleaning your baby's gums at around 4 to 6 months of age. For that, as per a pediatric dentist's advice, you need to clean your baby's gums with a warm sterilized damp cloth or a silicone finger toothbrush.
You can start brushing your baby's teeth as soon as the first one erupts. Pediatric dentists advise you to use a toothbrush that is moistened with water, which has no more than three rows of bristles and whose bristles are soft by touch. The pharmacist at the drug store will help you find out the suitable toothbrush or silicone finger brush. At 18 months of age start using a pea-sized low fluoride or fluoride less toothpaste and encourage your kid to learn to spit out the paste. Also, make sure that you throw away all the brushes that have become hard on the sides, and which are more than 4 months used. This is because the older brushes are a favorable environment for bacterial to grow in them and plaque to buildup in the brushes. You should make a point to clean your baby's teeth twice a day.
Even if the child is one or two years old and can hold the toothbrush in his or her hand, adult supervision is always necessary until the age of 7 to 8 years. Then you can teach your kid to brush their teeth on their own. There is a particular method to brush your child's teeth. Do follow the pattern.
The don'ts to avoid tooth decay in babies
The first and foremost thing is not to give a lot of sugary products like sweets, cookies, and ice cream to the kids. Also, there are chances of baby bottle teeth decay in kids. In order to avoid that take the following steps
Do not allow the kid to use the baby bottle as a pacifier
Do not feed the kid directly before bedtime and naptime
Do not feed frequently for a long period.
Types of baby toothbrush
Different types of baby toothbrushes are used at different stages. These toothbrushes are as follows
Silicone grade finger toothbrush
Soft bristle toothbrush for toddlers
Automatic toothbrushes for kids
Silicone grade finger toothbrush
It is made up of 100 percent food-grade silicone that is safe for babies. You can wear this toothbrush on your index finger, so it is known as a finger toothbrush. You can use this toothbrush to clean the baby's gums after feeding and also to rub and soothe the baby's gum when he or she is teething.
Soft bristle toothbrush for toddlers
American dental association advises brushing their little one's teeth with a small toothbrush which has soft bristles and not more than three layers. The brush should fit easily in the child's mouth and should have a rounded head so that it does not hurt the kid in the mouth. The toothbrush should have easy to hold and a non-slip grip which makes it easy for the kids to hold the brush and practice brushing on their own.
Electric toothbrushes
Electric toothbrushes are also good perks for kids. They come with the print of cartoon characters and can also play music when on. But, these electronic toothbrushes come with certain age restrictions. The electronic toothbrush cannot be used for children below three years of age.
Also, you should keep in mind that there is a difference between an adult electric toothbrush and the one for kids. The companies manufacturing them have different models. You can visit their site and collect more information on it. Also, if you want to know more about electronic toothbrushes you should buy the one with ADA seal and check their site for relevant information.
Top baby finger toothbrush brands in 2020
Fridababy Smile Frida the finger toothbrush
It develops good oral hygiene for kids
It has a triple angle and is a double-sided brush which helps clean all sides of the babies mouth
It comes with a storage stand to keep the brush dust free.
It is bacteria resistant and can be cleaned very easily.
Cost: $7.86
Buy: you can purchase it from here.
Dr. Brown's Finger toothbrush
It is a 100% silicon brush
Super soft and dual-sided easy to use for baby
Fits over the adult index finger
Protective storage case available
It is great to use in travel
Cost: $3.99
Buy: you can purchase it from here.
Baby silicone finger toothbrush
It is surrounded by bristles all around (360 degree). Which allows the parents to clean their babies teeth from any angle and in any position.
The bristles are extra soft, but, are strong enough to stand the chewing and gnawing by the kid.
It has one size which fits all the adults.
They have tailor made boxes that can cover the soft bristles.
Cost: $15.99
Buy: you can purchase it from here.
Baby Baus baby finger toothbrush
This finger toothbrush makes cleaning teeth fun for babies as the kids love the sensation of brushing bristles on their gums when they are teething.
This toothbrush makes cleaning the kids teeth easy, and it is also easy to clean the bristles and the brush after use.
This brush is made up of pure food grade non-toxic material, and hence there is no harm even if the kids chew the bristles.
It is available in the pack of 3
Cost: $6.97
Buy: you can buy it from here.
Top soft bristle toothbrush brands for toddlers 2020
Colgate kids minions toothbrush
The minions cartoon on the toothbrush encourages the kids to maintain proper oral hygiene.
The soft bristle toothbrush also has a tongue cleaner at that back which removes plaque and bacteria from the tongue.
It has a round handle and thumb grip to provide easy grip to the kids.
It is a BPA free toothbrush with a small head. So, that cleaning can be done very easily.
The built in suction cup helps in upright storage of the brush.
Cost: $7.99
Buy: you can purchase this from here.
Stesa kids toothbrush pack of 5
These kids toothbrush come in the pack of 5.
All of these toothbrushes are BPA and phthalates free.
The bristles are very soft to provide effective yet gentle cleaning.
The toothbrush comes with a free dust cover and a suction cup that helps in upright storage.
It is for kids who are 3 years plus.
Cost: $9.99
Buy: you can buy this over here.
Dr. brown's Infant to toddler toothbrush
The giraffe shaped brush is made up of soft yet durable material.
It has a comfortable grip and is easy to hold for the toddlers.
Safely cleans baby's teeth and gums.
When brushing time is over you just need to put the brush on four legs of giraffe.
This baby toothbrush is recommended from 0 to 3 years age group.
Cost: $ 3.99
Buy: you can buy this over here.
Gum crayola pip-squeaks kids toothbrush
These toothbrushes are very colourful and has squeaky sound which makes brushing fun.
Soft bristles and narrow tape head are good to use for the kids.
Raised bristles easily clean hard to reach places.
Cost: $8.99
Buy: you can buy it from here.
Top Electric toothbrush for kids in 2020
Oral B kids electric toothbrush with a sensitive brush head and timer
It has a round brush head which rotates oscillates to clean in a thorough way
The brush has three parts charger, rechargeable handle, and sensitive bristle round brush head.
It cleans the teeth thoroughly as compared to the manual toothbrush.
It has a timer in handle to help kids brush for two full minutes.
The brush is appropriate for kids above three years of age.
Cost: $22.99
Buy: you can buy it from here.
Amazon Brand Solimo kids electric toothbrush
It has oscillating head which helps clean the plaque 70% more effectively
The soft bristles gently and thoroughly clean your child's teeth.
It is battery operated and AAA batteries are included in the package.
The package has two toothbrushes blue and yellow in colour.
It is advicable to use for children above 4 years old.
Cost: $8.99
Buy: you can buy it from here.
Fairy will children electric toothbrushes
The dolphin design, 7 popular kids songs, and colourful LED light make brushing fun for kids
The built in LED torch can also help parents to check the kids inner teeth as and when needed.
It has a 2 min timer with an interval pose every 30 seconds to remind your child to change the side of their brushing.
It has extra soft bristles with mini head to enable proper and comfortable cleaning.
In order to provide good after sales services they provide 180 days no hassle return policy and 1 year warranty on the toothbrush.
Cost: $21.99
Buy: you can buy this from here.
Phillips Sonicare for kids Bluetooth connected rechargeable electric toothbrush
Interactive sonic power toothbrush makes brushing fun and easier for the kids.
With the interactive free app, kids are rewarded after each successful brushing session and parents can monitor their kids progress easily.
The kid pacer plays music to alert the kid to change sides while brushing.
Cost: $49.95
Buy: you can buy this from here.
So, this is all you want to know about the baby toothbrush, how to use them, and different types of toothbrushes. Please share your input with us in the comments section.